2022/23 Season Tickets are now on full general sale. 
All seats that haven't yet been renewed by previous season ticket holders are now available on general sale. 
Early bird pricing will run until Sunday 3rd July with full prices applying from Monday 4th July onwards. Early bird prices provide a significant saving on walk-up prices and offer you the best value for money. 
The club would like to sincerely thank the 2,700+ supporters that have already renewed their season ticket during the loyalty period ahead of the 2022/23 season and given us such positive feedback on the process so far. Your support remains greatly appreciated and is never taken for granted.
This is our town, our team. Renew online now and be a part of #OurStMirren.
CLICK HERE FOR SEASON TICKET GENERAL SALE
Season Ticket Update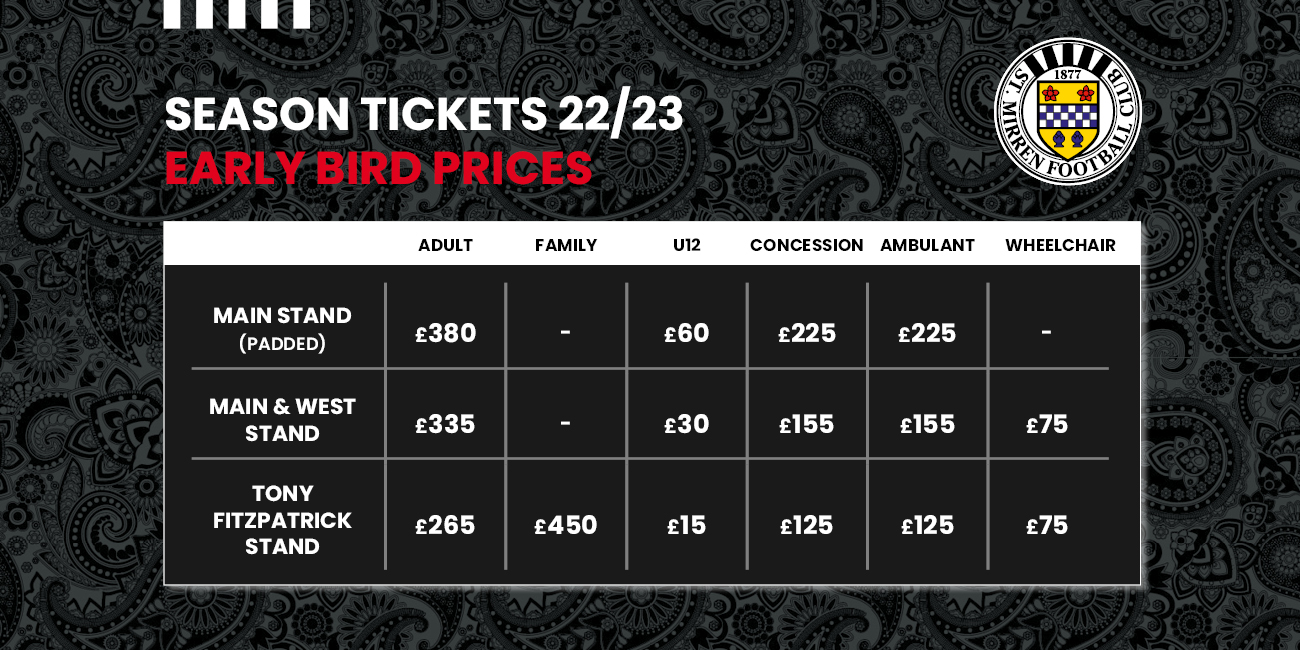 #OurFans
To simplify and streamline our season ticket offering for the 2022-2023 season, we have undertaken a collaborative review across the organisation. You will note that the categories available are now Adult, Concession (including Over 65s, 13–17-Year-Olds, Students, and our new concession supporting those who are Unemployed), Family, U12, Ambulant and Wheelchair. We ask that you select the corresponding category when you renew your seat(s).
There is further supportive information outlined below for ambulant and family tickets. Please note that if you are selecting a concession category for the first time, we will ask that you provide proof of this before you collect your new season ticket.
We want to remain competitive on the pitch and give the manager the best resources we possibly can in our quest for a top six position. After freezing pricing for the past three seasons, we have decided to increase prices to help meet the rising costs that are affecting all businesses and individuals. Rest assured this decision was not made lightly and we have endeavoured to reduce the impact as much as possible. However, we continue to offer great value for money in comparison with other Premiership clubs. For the full statement from John Needham the Chairman please click HERE.
Early bird prices will run until 
#OurFamily
We are delighted to say our family ticket now includes two adults and three children under the age of 17, as opposed to under the age of 13, offering excellent value for money for a family day out. This ticket is approximately £30 per family per game which is a massive saving on walk-up prices, costing up to £95 per visit. More information on purchasing this bundle ticket is outlined below. Please note that family ticket renewals, or to transfer to a family ticket must be done at the ticket office. This is a special ticket bundle and cannot be purchased online.
Please note for all season ticket holders in the Tony Fitzpatrick Family Stand, your ticket, as in previous seasons, does not include the Old Firm games. When the decision is finalised regarding retention of this stand, following the fan survey, we will provide information on attendance for these fixtures.
#OurBuddies
We have introduced a concession category for anyone who is unemployed. This will be the same price as all other concession tickets and save you over £150 depending on where you sit. We hope that this will help those affected to afford to continue to come along and support your team. We ask that you select this category during your renewal to take advantage of this offer. Please note that you will be asked to produce proof of your status when you collect your ticket, we will only require this once per season.
We will also be introducing a scheme to allow you to support your fellow Buddies by buying tickets for them to come to games, more information will be available in due course.
#OurSupport
We encourage the purchase of season tickets if you regularly attend matches because the savings made on walk-up prices are significant. However, we know season tickets are a big financial commitment and we continue to offer interest free payment plans available for those who may wish to spread the cost of a season ticket. The ticket office will support you in the provision of this payment option so please visit them to renew your seat during the loyalty period. However, please note as in previous years, the payment plan is based on full price tickets because we are unable to offer early bird on this plan.
#OurBenefits
We are excited to announce our latest list of season ticket holder benefits and discounts.
With your 2022/23 Season card you will have access to all discounts outlined here. We would like to thank all the organisations involved for providing such generous offers to our fans.
#OurStMirren
There is much appreciation for the dedication and loyalty shown by yourselves year after year. We recognise season tickets are a large upfront cost and an emotional purchase. Thank you for your understanding as we enter a new chapter.
---