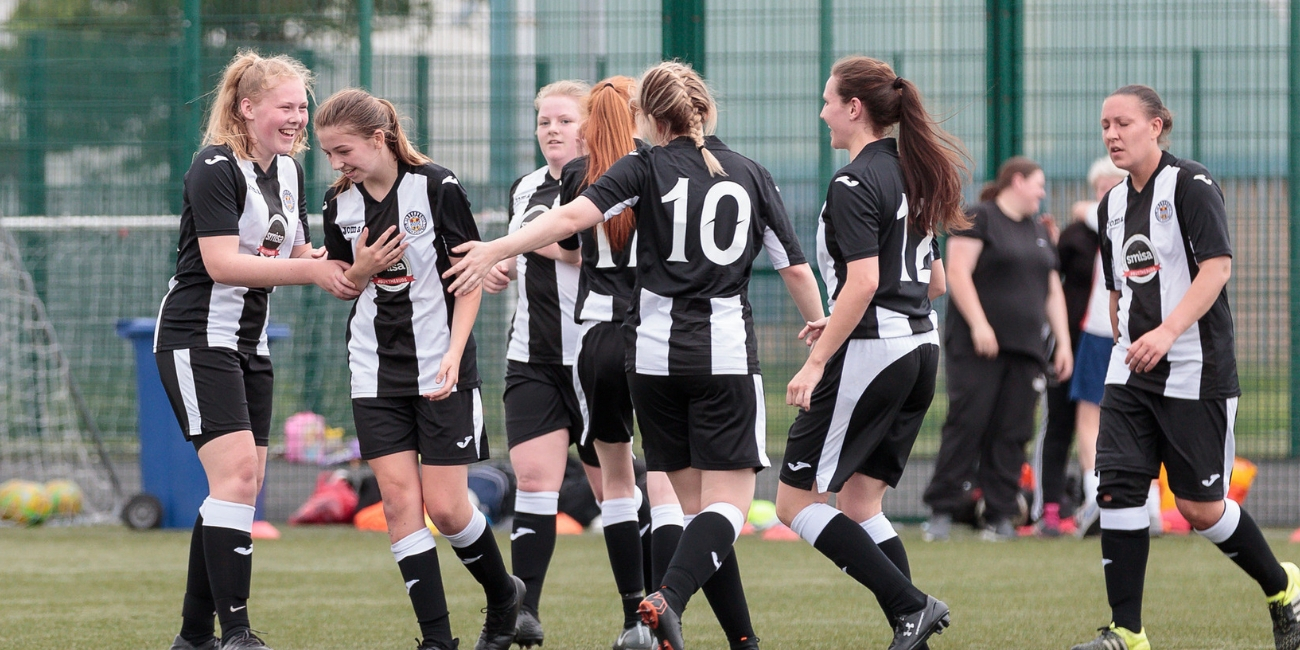 St Mirren's WFC
The St Mirren Women's Team was established in 2018 and currently competes in the Scottish Womens Football League (SWFL) Championship South. 
The ambition for the side is to be promoted through the leagues with the aim to play at the highest level in the women's game, the Scottish Women's Premier League. (SWPL)
The Women's Season runs from February - November with our home matches currently being played at Ferguslie Sports Centre, Blackstoun Road Paisley. 
Excited to be part of the St Mirren Family, it is their intention to grow the women and girls game in Paisley and Renfrewshire.

Want to know more information or get involved please contact us at [email protected]. 
2020 Women's Team Fixtures
The fixture list for the women's team is shown below. We will update this list as soon as any kick off dates or times change and as and when new cup fixtures are added to the calendar.
Sun 18/10/2020
Airdrie LFC
A
 
SWFL Championship South
John Cumming Stadium, Carluke

2pm kick-off
Sun 23/02/2020
BSC Glasgow
H
 
SWFL Championship South
Ferguslie Sports Centre 
Sun
01/11/2020
Morton
A
 
SWFL Championship South
Parklea Stadium

2pm kick-off
Sun 08/11/2020
United Glasgow
H
 
SWFL Championship South
Ferguslie Sports Centre 

2pm kick-off
Sun 15/11/2020
Clyde FC
A
 
SWFL Championship South
Broadwood Stadium

2pm kick-off
Sun
22/11/2020
Stenhousemuir
H
 
SWFL Championship South
Ferguslie Sports Centre 

2pm kick-off
Sun 29/10/2020 
Renfrew LFC
A
 
SWFL Championship South
New Western Park

2pm kick-off
Sun 06/12/2020
Gartcairn
H 
 
SWFL Championship South
Ferguslie Sports Centre 

2pm kick-off
Sun 13/12/2020
Edinburgh City
H 
 
SWFL Championship South
 Ferguslie Sports Centre

2pm kick-off
Sun 17/01/2021
Ayr United
A 
 
SWFL Championship South
Townhead Park

2pm kick-off 
Sun
24/01/2021
Falkirk
H 
 
SWFL Championship South
Ferguslie Sports Centre

2pm kick-off
Sun 31/01/2021
Edinburgh Caledonia
A 
 
SWFL Championship South
Lasswade Centre

2pm kick-off 
Sun 07/02/2021
Livingston WFC
H 
 
SWFL Championship South
Ferguslie Sports Centre 

2pm kick-off
Sun 14/02/2021
Airdrie LFC
H 
 
SWFL Championship South
 Ferguslie Sports Centre

2pm kick-off
Sun 21/02/2021
BSC Glasgow
A 
 
SWFL Championship South
 Clydebank Community Sports Hub

2pm kick-off
Sun
28/02/2021
Morton
H 
 
SWFL Championship South
 Ferguslie Sports Centre

2pm kick-off
Sun 07/03/2021
United Glasgow
A 
 
SWFL Championship South
 Garscube Sports Complex

2pm kick-off
Sun 14/03/2021
Clyde
H
 
SWFL Championship South
Ferguslie Sports Centre 

2pm kick-off
Sun 21/03/2021
Stenhousemuir
A
 
SWFL Championship South
Ochilview Park

2pm kick-off
Wed
24/03/2021
Renfrew LFC
H
 
SWFL Championship South
Ferguslie Sports Centre 

7pm kick-off
Sun
28/03/2021
Gartcairn
A
 
SWFL Championship South
MTC Park

2:00pm kick-off
Sun 04/03/2021
Edinburgh City
A
 
SWFL Championship South
Albyn Park

2pm kick-off
Sun 11/03/2021
Ayr United
H
 
SWFL Championship South
Ferguslie Sports Centre 

2pm kick-off
Sun
18/03/2021
Falkirk
A
 
SWFL Championship South
Falkirk Stadium

2pm kick-off
Wed
21/03/2021
Edinburgh Caledonia
H
 
SWFL Championship South
Ferguslie Sports Centre 

7pm kick-off
Sun 25/03/2021
Livingston WFC
A
 
SWFL Championship South
The Tony Macaroni Arena

2pm kick-off