Renew your Season Tickets Now | Our Loyalty Period is Open
As we approach season 2023/24, we do so in the strongest position we have been in since 1985 with a guaranteed top six finish. We want to thank and reward our loyal season ticket holders for the ongoing support in what has been an exciting season of football. 
We have witnessed our biggest attendances since The SMiSA Stadium opened its doors in 2009, with record numbers in many of our fixtures and only our third sell out since we moved from Love Street. We want to continue to maintain these numbers and hope to achieve record season ticket holders for the season ahead. 
For your continued invaluable support we are offering you exclusive access to our loyalty period to allow you to renew your ticket and secure your seat for a three-week period before all seats are released for general sale. 
Our loyalty period runs from Monday 22nd May to Sunday 11th June giving you three weeks to renew your ticket and retain your seat at our early bird prices. Please note on Monday 12th June all seats will be released into general early bird sale, and these will go on sale to all from Wednesday 14th June, so now is the time to renew! 

Once your ticket order is complete you will receive a confirmation email. Please ensure all details are correct and contact the ticket office if you have any issues. This season we are offering an alternative to a printed card, you will have access to a free app which will hold your season ticket. You will have the option to purchase a physical card for a small fee of £3, including postage. 
If you have requested a physical card it will be printed in the coming weeks; we will update you when they are available, before the season commences. 
Below we have included a step-by-step guide in how to renew your tickets. 
Season Ticket Update
Early Bird Pricing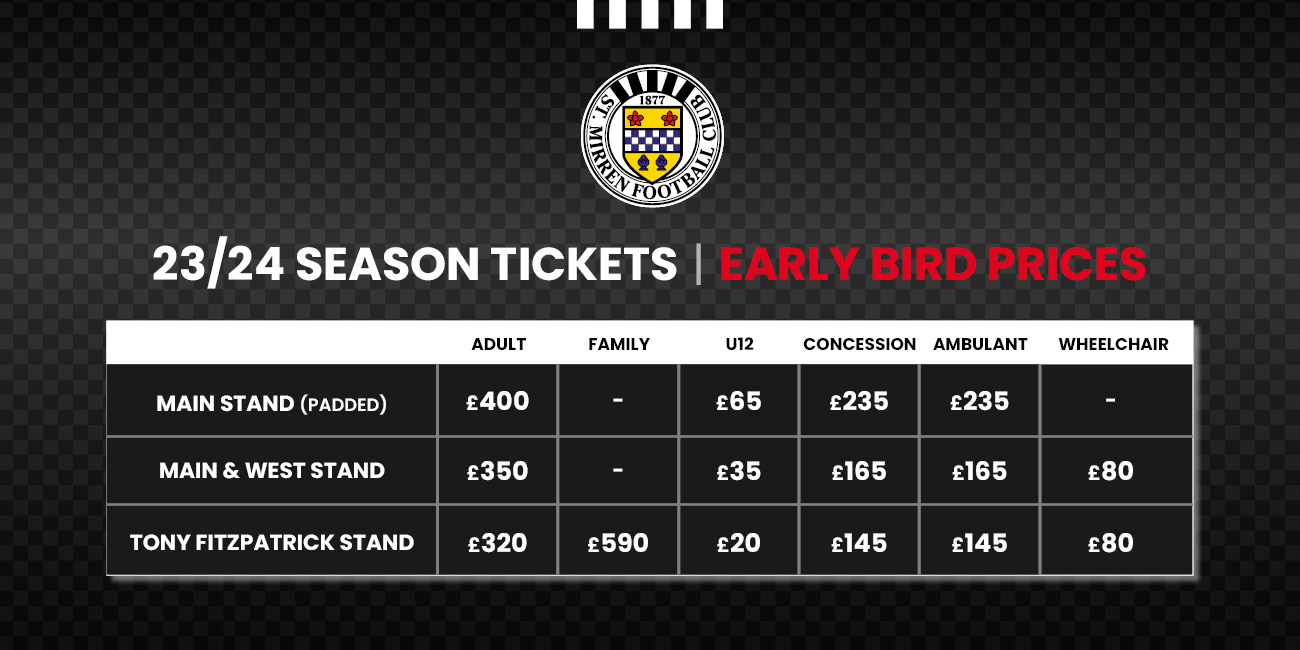 Full Pricing (from Monday 10th July)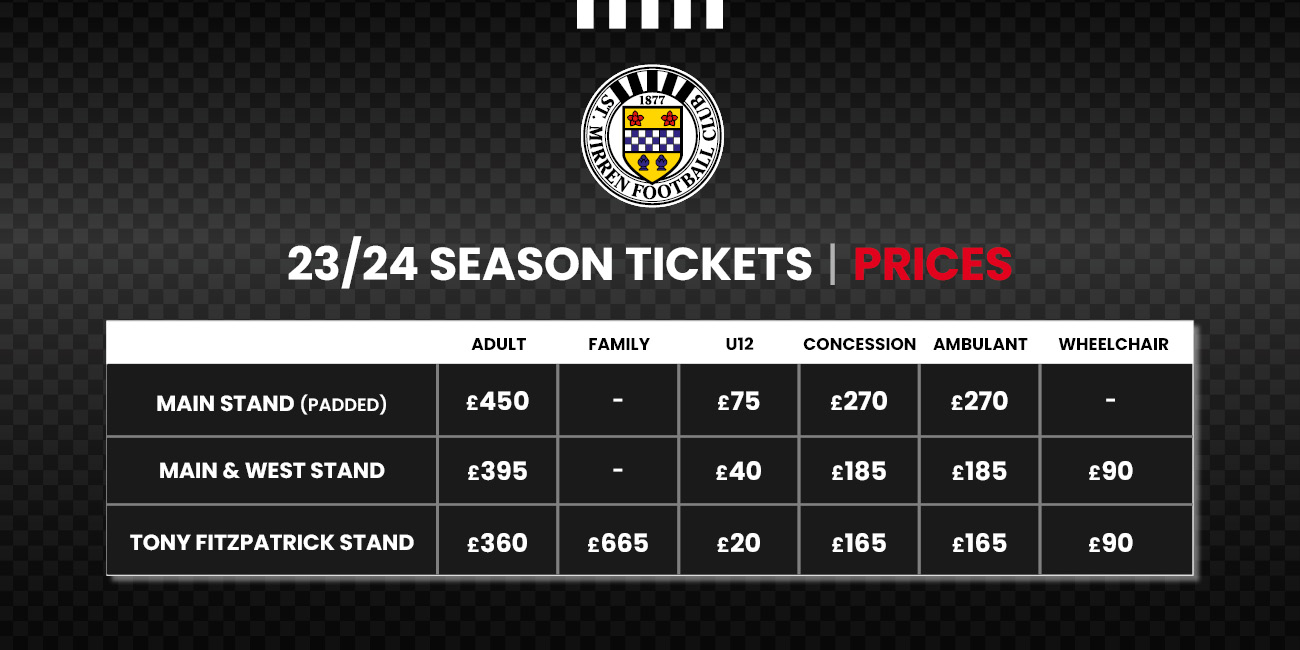 #OurFamily Following our refresh and modernisation of season ticket categories in the 2022/23 season, we have made no changes to the structure of tickets for this season. 
Please ensure that, in renewing your tickets, that you account for any changes in personal circumstance. Our concessions include 65 and over, 13-17 year-olds, full-time students and those who are unemployed. Our 'Family Ticket' proves to be the best value for money for two adults and three children aged 17 and under, and we have our Adult, U12s, Ambulant and Wheelchair tickets. We ask that you select the correct corresponding category when you renew your seat(s). 
There is further supportive information outlined below for renewing each type of season ticket. Please note that if you are selecting a concession category, we will ask that you provide proof of this before your new season ticket is validated.
We want to remain competitive on the pitch and give the manager the best resources we possibly can in our quest for another top six finish. There has been a modest price increase to reflect the cost of living, but we have kept this to a minimum in order to continue to provide the best value we can for you to support St Mirren and be an integral part of #OurFamily. We have endeavoured to reduce the impact as much as possible. However, we continue to offer great value for money in comparison with other Scottish Premiership clubs. For the full statement from our Chairman, John Needham, please click HERE.
#OurFamily Our Family ticket includes two adults and three children under the age of 17, offering excellent value for money for a family day out. The ticket works out at approximately £31 per family per match based on our early bird pricing, and £35 at full price, which is a massive saving on walk-up prices, costing up to £100 per visit. More information on purchasing this bundle ticket is outlined below. Please note that Family Ticket renewals, or transfer to a Family Ticket, must be completed at the St Mirren Ticket Office. This is a special ticket bundle and cannot be purchased online.
Please note for all season ticket holders in the Tony Fitzpatrick Family Stand, your ticket now includes ALL Scottish Premiership home fixtures, and prices are reflective of this. 
#OurSupport we encourage the purchase of season ticket if you regularly attend matches because the savings made on walk-up prices are significant. However, we know season tickets are a big financial commitment and we continue to offer interest free payment plans available for those who may wish to spread the cost of a season ticket. If you wish to renew your season ticket with finance in place, this will be available to from the 28th May with GoCardless. Your seat will be held just the same, no one else can buy your seat unless you do not renew before 12th June. Payment plans will be over a six month period. Please note, season tickets bought with finance will be at full price, not the Early Bird Renewal price. 
Key dates for St Mirren Season Tickets
Discover when you can join #OurFamily.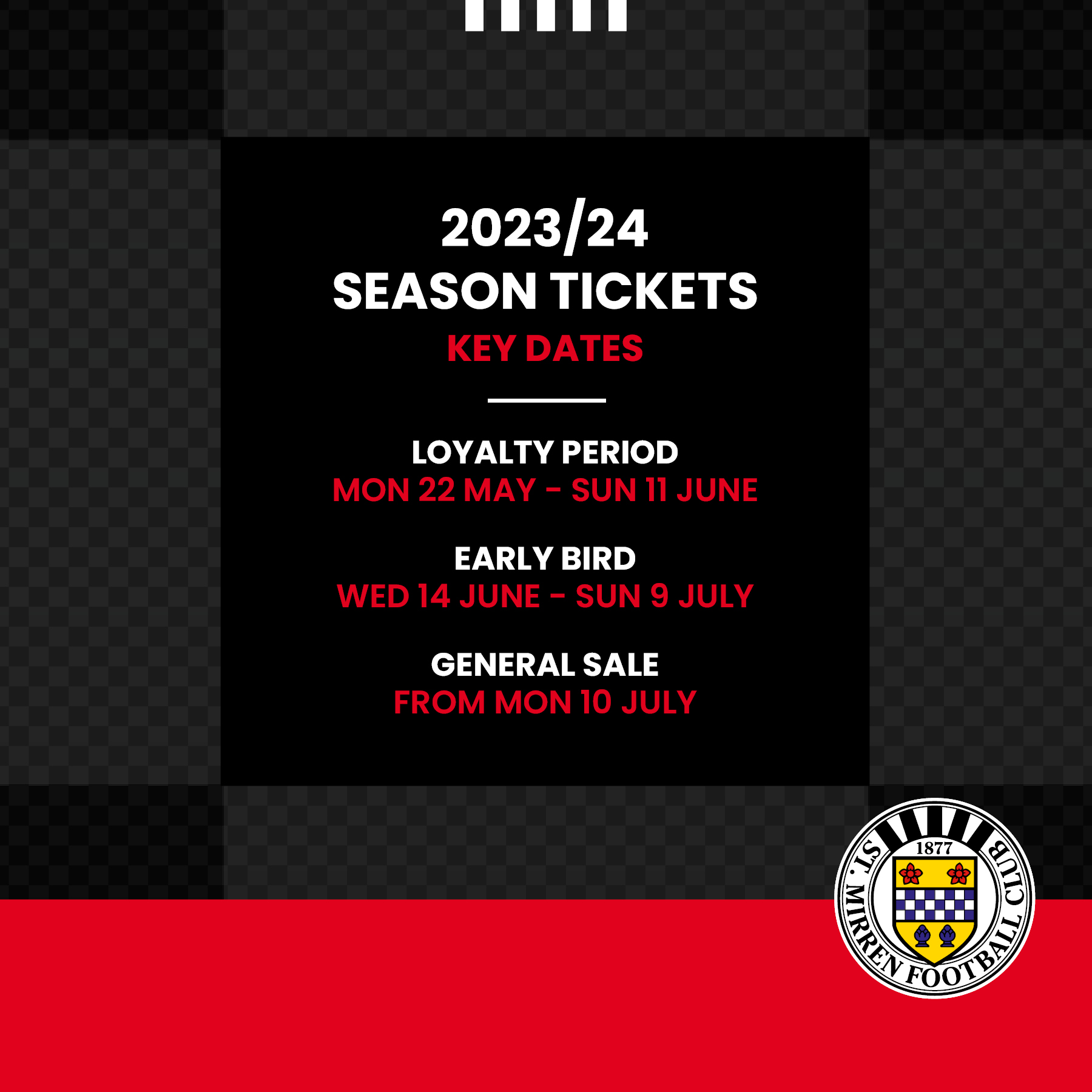 How to Renew Your Season Ticket 2023/24
During our three-week Loyalty Period, commencing on Monday May 22nd, we are holding your seat to allow you time to renew your ticket for next season and guarantee your seat with the added benefit of early bird pricing. You will have until midnight on Sunday 11th June before we release the seats from the Loyalty Period into General Sale. During this period, you will benefit from our early bird pricing, which will also be available when the seats are released, for a further four weeks. Once this period has ended all sales will move to full price.
We have created a guide to support you in renewing your Season Ticket. The step-by-step process is outlined below:
Please visit stmirren.com/seasontickets to start your renewal process.
1. You will be asked for your email address used to place last season's order, so please ensure you have it ready. If you have bought multiple season tickets in one transaction you will be able to renew online. However, if it was done over multiple orders then you will need to come into the ticket office directly to renew.
2. After you have entered your email, you will be taken to a screen that will highlight the seats in your previous order. Only you will be able to see and select the seats you have previously bought.
3. If you wish to continue without any changes from the previous season, select add to basket and go to checkout where you can make payment for your order.
4. If you wish to amend your order for any reason, just click on the seat you wish to amend:
If you no longer require one of your seats, click on the seat to deselect it and it will be removed from your order.
If you wish to change seats, then please deselect your current seat and pick any available seat to add to your order.
If you wish to change your season ticket type based on a change of circumstances, click on the seat that you wish to change to deselect it and then select it again and chose the appropriate ticket type. (Please note if you are selecting a concession or ambulant for the first time then your ticket will be 'live' once you have provided proof of your concession).
If you wish to add another seat to your order, you will be able to select any of the available seats and choose the appropriate ticket type.
To continue, please add to basket and proceed to checkout where you can make payment for your order.