---
Jonah Ayunga is edging closer to a return having been out of action since January after rupturing his anterior cruciate ligament (ACL) against Motherwell in the cinch Premiership.
An accidental collision with a Motherwell defender saw the 26-year-old hobble off and he's been sidelined since. 
The forward had surgery on the injury at the beginning of March and has been working hard in his rehabilitation with Gerry Docherty, Head of Physiotherapy, in his efforts to get back playing. While he's still looking at a period on the sidelines, Jonah continues to work hard as he aims to get back into the fold over the next month or so. 
Speaking on the injury and the progression Jonah has made so far, Gerry told stmirren.com: "Jonah ruptured his ACL in January and had an operation in early March.
"He's progressed through the stages of the rehabilitation from his stress work to range of movement and balance work. He's done all that but it's ongoing during all the phases.
He's now approaching the late stages of his rehab. He's been running, he's been out on the pitch doing some ball work and joined in a couple of the warm ups with the lads.

"We're now just integrating more agility drills, change of direction, getting faster at doing these and we'll eventually get him involved with other players around him which is the 'chaos' and is more reactive.

"He's still around six weeks away, but we are optimistic we can make that transition over the next month or so and he'll be close to hopefully joining in sometime in early October."
The 26-year-old impressed the Saints support after netting seven goals in 24 appearances since his move from Morecambe FC in June 2022. 
I feel good," Jonah told stmirren.com.

"I've been upping it quite a lot on the grass and doing a lot more dynamic stuff like change of direction, passing, getting used to moving and kicking the ball again so it's been a good couple of weeks.

"I think I'm just over six months since the surgery so to be where I am is probably ahead of where I thought I was going to be and just getting these last few bits ticked off and then I can be back in training. 

"I trust Gerry and everything he gives me to do so when he gives me something to do I give it 100% and see how I react to it.

"Watching the boys doing well, knowing that if I was out on the pitch that I could be adding something else as well, I can't wait to be back. The surgeon was happy with everything so we can just crack on with things."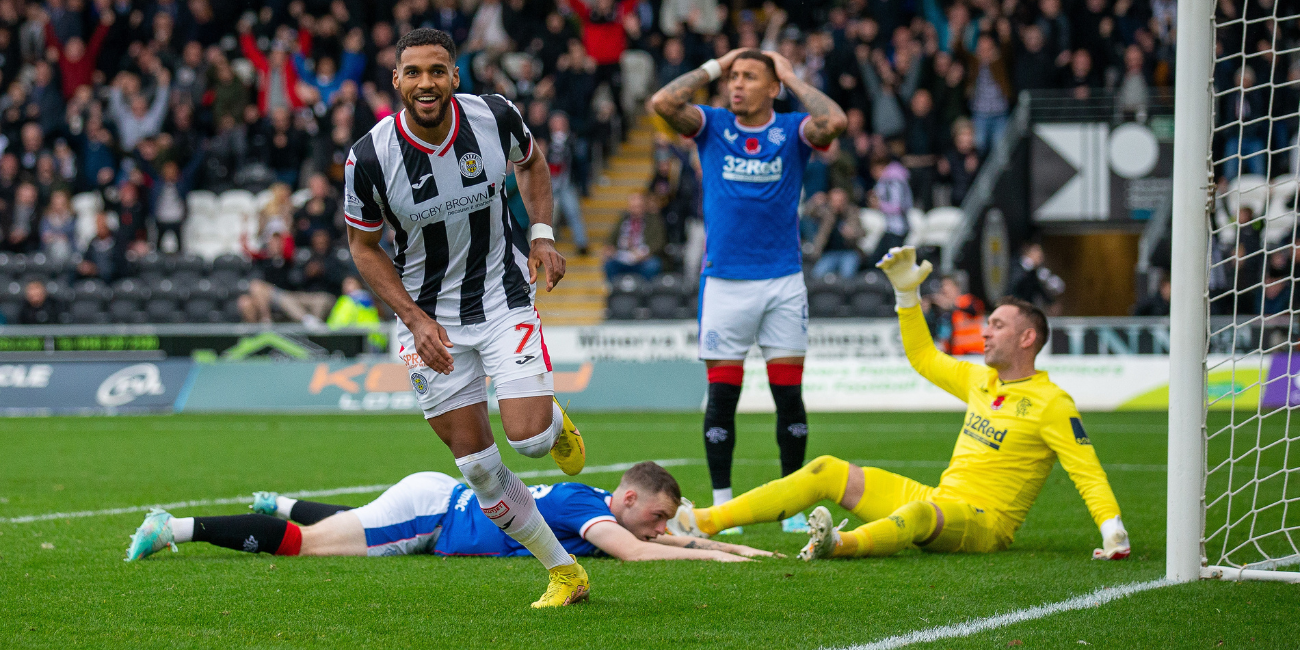 Jonah scoring in a 1-1 draw against Rangers at The SMiSA Stadium last November. The forward has impressed the Saints support since his move (Image: Vagelis Georgariou) 
Jonah is known around the club for his big smile and warm personality. 
And Gerry Docherty was full of praise for the effort and character the striker has shown during his recovery. 
He's worked ever so hard," the Head of Physiotherapist said. 

You have to have a real mental strength to get on with these types of things. He's made my job easier to be honest.

"He always comes in with a smile on his face every day. He's taken everything on the chin and took it in his stride, literally!

"Of all the cruciate injuries I've dealt with in my experience, and the transition from gym to pitch, his has been the smoothest I've seen.

"His strength work will be ongoing for the next six months. We had a follow up with the surgeon last week and everything went well and we're now entering what is the final stages so hopefully that goes well."