16-year-old Dylan Reid impressed as he made his first start for St Mirren in Saturday's cinch Premiership match against Dundee United.
The St Mirren Youth Academy graduate made history in March when he became the youngest ever player to feature in the Scottish Premiership at the age of 16 years and five days after a substitute appearance against Rangers at Ibrox.
After waiting patiently for his next opportunity, the midfielder played 74 minutes on Saturday in Saints' 0-0 draw with the Terrors. 
It all comes just a week after the 16-year-old captained Scotland U17s in a friendly against Wales during the international break.
Speaking after his start, Dylan told stmirren.com: "It was great.
I found out on Friday that I was going to be in the team. I was quite nervous, but it was good nerves. I slept like a baby that night. 

"With injuries and suspensions, I knew I could maybe get a chance. The manager told me I had an opportunity and to go and take it. Hopefully I did that and impressed people.

"I just wanted to go out and express myself and challenge myself and I felt I did that.

"It was my first time playing in front of fans and I thought they were excellent. When I had a tackle in the first-half there was a roar from the fans and it gave me a bit of confidence. 

"I've been patient and tried to be the best that I can, but it was so great to be out there playing football."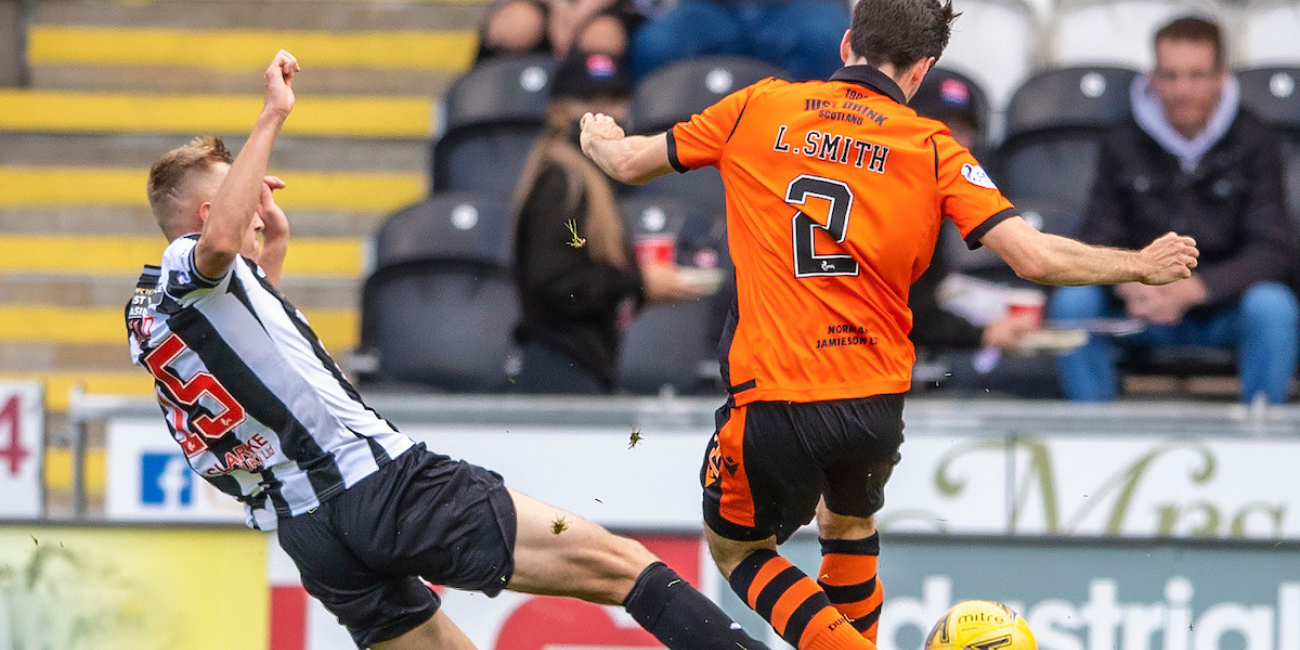 Dylan raced back to prevent Liam Smith (Image: Andy Barr)
The 16-year-old made way after 74 minutes for midfielder Ryan Flynn and says he looks up to experienced players like that. 
Ryan is such a good player," Dylan said.

"I hate playing against him in training because he's so good and he showed his class when he came on. I've wanted to learn from other players when I've been watching from the sidelines.

"Guys like that just give me confidence and after games they tell me what I did well and what I could do better which I love and take on board."
Jim Goodwin was full of praise for Dylan, but wasn't surprised by what the 16-year-old brought to the team.
I thought Dylan was excellent," the manager said after the match.

"We knew what we were going to get off him. He's been training with the group now for the last six to nine months and captained the Scotland under-17s last week. Everyone knows what Dylan is capable of.

"He needs to work on the physical side of his game, but Junior Mendes is working tirelessly with Dylan to make sure he's eating the right things and doing the right things to bulk up.

"Technically he is one of the best in the group and I thought we saw a really good performance from him. These young guys need an opportunity at some time and I knew Dylan wouldn't let me down."